In Case You Missed Them, Our Past Events:
Webinar: Direct Marketing in Pandemic Times (in French)
"Mise en marché de proximité en temps de pandémie"
May 22, 2020
https://youtu.be/LJ48KWTkwbA
Webinaire: Social innovation in pandemic times (in French) "L'innovation sociale au temps du coronavirus"
May 6, 2020
https://youtu.be/8XhAJ1dba2Y
Read an article (in French) on this webinar by André Magny, from the Association de la Presse francophone: Propulser le changement social, même en temps de pandémie  
See more recorded webinars on our website. https://foodcommunities.ca/webinars/
Further reflections on COVID-19 food solutions:

"Standing on the threshold: COVID-19 and our food system", an article by Barbara Emanuel, founding team member of the Food Communities Network, and past manager of the Toronto Food Strategy.
Read here.
A Food Policy Action Plan in the Context of Covid-19. 
May 14, 2020
Read here.
Food Secure Canada has published a policy action plan for renewing the country's food system in response to Covid-19. The action plan names 7 policy priorities:
Address the root causes of food insecurity
Build resilient, ecological local food systems
Support Indigenous food sovereignty
Champion decent work and justice for workers all along the food chain
Ensure everyone is at the policy-making table
Harmonize Canada's national and international food policies, prioritizing food sovereignty approaches
Immediately advance a National School Food Program
Food Secure Canada is calling on everyone to spread the word to ensure that this message is heard. Click here to see how: https://foodsecurecanada.org/2020-growing-resilience-equity
The Coronavirus Pandemic: Canada's Response issue of Policy Options includes a number of articles that discuss the issue of food and poverty:
March 2020
Read here.
"Cracks in the global food system more apparent with COVID-19", by Gisèle Yasmeen, Susan Alexander & Anna Paskal

"Food banks can't adequately address COVID-19 food insecurity", by Valerie Tarasuk & Lynn McIntyre

"A basic income is not as simple as you might think", by David A. Green, J. Rhys Kesselman & Lindsay Tedds

"Les personnes les plus vulnérables face au coronavirus", par Pierre Tircher et Nicolas Zorn

The price of the Nutritious Food Basket in COVID-19 times (In French).
Le coût du Panier à provision nutritif (PPN) depuis l'apparition de la COVID-19
Published by: Dispensaire diététique de Montréal (Montreal Diet Dispensary)
Read here (in French).
3 times a year (January, May and September), the Montreal Diet Dispensary analyses the price of staple foods included in a nutritious food basket in Quebec. In the context of the COVID-19 crisis, the Dispensary decided to do extra analyses: a report will be produced for the months of April, May and June.
The April report reveals that :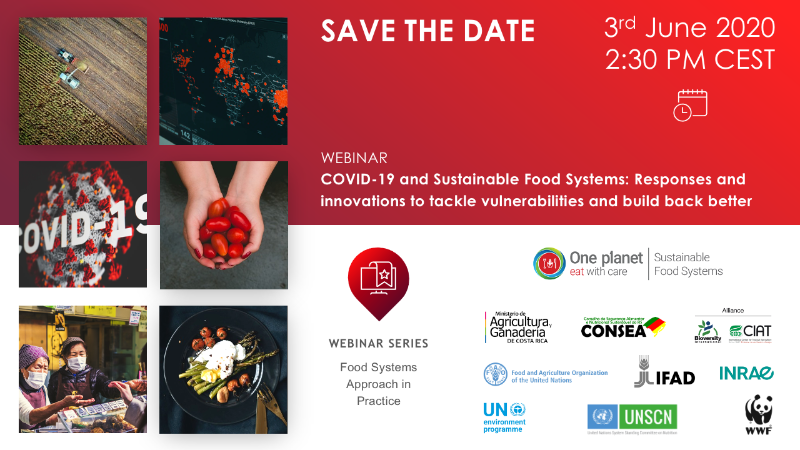 Upcoming International Webinar:
"COVID-19 and Sustainable Food Systems: Responses and innovations to tackle vulnerabilities and build back better"
Organized by: One Planet Network Sustainable Food Systems Programme (in Europe)
June 3, 2020, 2:30 PM CEST (convert to your time zone).
What critical measures are required to both combat the COVID-19 crisis and build sustainable food systems? Can responses to the COVID-19 crisis catalyse transformation toward sustainable food systems?
Register and submit your own answers in this participatory webinar here.